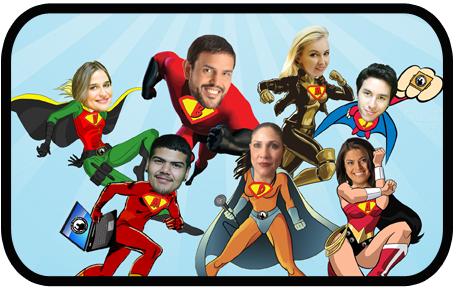 Alexa Oliva & Valerie Leichtman – Founders
Alexa Oliva has been the Executive Director of BOWAworld, a training and development organization, for over 21 years. She is responsible for global management of the organization and marketing, including educational insights and program development, digital marketing, logistics of tours, funding strategies and execution. Her husband, Bert Oliva, is an international orator and human behavior expert. She has helped him transform the lives of many professionals such as CEO's, political leaders, entertainers, doctors, teachers, parents and children alike through BOWAworld's trainings, seminars, workshops, and coaching.
A Life's Dream
However, Alexa's dream has always been to help children extensively and in 2012, she got her chance. Alexa, Bert, and their team went to Belize to speak to the Caribbean Association of Insurance & Financial Advisors (CARAIFA). Once there, they were invited to speak to high-school students; that year, they spoke to over 3,500 students.
 Alexa was incredibly affected by what she saw and the response they got from the students. So affected that when she got back to the United States, she spoke to her partner, Valerie Leichtman, and they decided to create a separate organization based solely on empowering the world's youth and the Motivational Missionaries Tour (MMT) was born.
MMT
 Valerie Leichtman has been a part of BOWA for almost 5 years and has been able to create methodologies for delivering functional programming to their clients. She has dedicated herself to producing programs ranging from basic principles of customer services to complex training programs that are developed for leadership and high-level executives in multi-national companies. She also has a degree in Computer Science and Creative Writing from the University of Miami.
Alexa and Valerie, along with their team of Potentialists, a group of interesting and driven professionals, is now dedicated to reaching out to the world's youth that need and want inspiration; providing them tools to have a better future for themselves and their countries through MMT. MMT also delivers pertinent information regarding issues directly affecting the youth in our communities. These presentations are designed in their languange with their interests to keep them engaged.
The Human Connection Movement is designed to show how it is time to shift our global viewpoint from an emphasis on things to an emphasis on people. We want to show that regardless of technological advancements, governmental developments, or cultural shifts, the most important resource we have on this planet is ourselves and the connection between each one of us.
Certifications
Alexa Oliva, Valerie Leichtman, and Bert Oliva are all certified in Human Traffcking Indicators and often participate in continuing education courses.